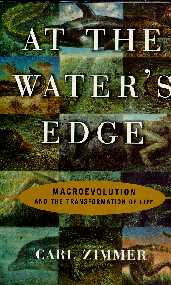 At the Water's Edge
Reviewed by: Henry E. Neufeld
Zimmer, Carl. At the Water's Edge: Macroevolution and the Transformation of Life. New York: The Free Press, 1998.
Purchase this book from Amazon.com
Go to the Energion.com Detail Page
This little book (290 pages) provides some excellent information on macroevolution and the current state of the science related to it. Zimmer, a senior editor at Discover discusses two transitions: The move of tetrapod ancestors from the ocean to the land, and the move of mammals back into the water, in the form of whales and related species.
This book is primarily about how such changes happen, what drives them, and the state of the evidence in terms of intermediate species. Zimmer also deals with molecular biology and its contribution to the discussion. No attempt is made to paper over any weak areas--all is laid out in its current state in science.
The book is totally comprehensible to the lay reader. I personally dislike the journalistic style with many intermissions talking about the author interviewing various scientists. Those kinds of things feel like interruptions to me. For many readers, however, I think this view of the scientists personally may well be of interest.
All in all, I think I would recommend reading this book to anyone interested in the topic. I don't know of any other at the same level which covers this same material.