HarperCollins Bible Dictionary






Buy: The Harper Collins Bible Dictionary
Availability: This title usually ships within 2-3 days.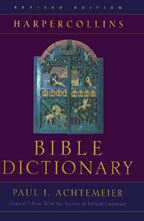 Note: Energion Bookshelf is an associate of Amazon.com.
---
A Bible dictionary is one of the books I rate as a must-have for the serious Bible student. Amongst the concise Bible dictionaries available, the HarperCollins Bible Dictionary is one of the best. It reflects mainstream scholarship. Some evangelicals may find it too liberal for their tastes and will prefer the New International Bible Dictionary.
Its editors and contributors are some of the best-known and qualified Bible scholars in the United States. It has more than 3700 entries and over 1200 pages. It includes articles on such general topics as Biblical criticism, the text of the and history of the Bible and hermeneutics. Reading the articles on specific Biblical books will provide an excellent introduction for the lay reader.
While presenting a scholarly consensus point of view, which some conservatives may find unsympathetic, the contributors carefully present the background to the conclusions they are drawing. The detail attained in the text is outstanding for a book of this size and is a credit to the editorial team.
Because I have found so little to complain about in it, I do not intend to do a complete review. I merely recommend this book wholeheartedly to any serious Bible student who is in search of a concise Bible dictionary.
For more information on using Bible dictionaries, see my article Using a Bible Dictionary. For further information on Bible study tools in general, see Bible Study Tools.
---
Alternatives and Supplements:
A good combination for study is the Contemporary English Version for quick reading, the Oxford Annotated Bible (REB) for serious study, for the introductory articles and notes, and the HarperCollins Bible Dictionary.
Those who would like a greater balance toward the conservative end of the spectrum might consider the following (note, these links are directly to Amazon.com where the books may be purchased):
The Eerdmans Bible Dictionary ~ Ships in 2-3 days
Allen C. Myers (Editor), et al / Paperback / Published 1996
Handy Dictionary of the Bible ~ Ships in 2-3 days
Merrill C. Tenney, et al / Paperback / Published 1985
New International Dictionary of the Bible/Pictorial Edition ~ Usually ships in 24 hours
Merrill Chapin Tenney, James Dixon Douglas / Hardcover / Published 1987
All of these are quality works by respected conservative scholars.
---
Two alternatives for those with the money for a multi-volume set:
Anchor Bible Dictionary ~ Usually ships in 24 hours; CD-ROM / Published 1997
The Anchor Bible Dictionary ~ Usually ships in 24 hours; David Noel Freedman (Editor) / Hardcover / Published 1992; ( I intend to provide fuller information on the Anchor Bible Dictionary at a later date.)
The Interpreter's Dictionary of the Bible George A. Butterick, et al / Hardcover / Published 1981
The Interpreter's Dictionary of the Bible : An Illustrated Encyclopedia Identifying and Explaining All Proper Names and Significant Terms and Subject Vol 4 ~ Ships in 2-3 days George A. Butterick, et al / Hardcover / Published 1962
The Interpreter's Dictionary of the Bible : An Illustrated Encyclopedia Identifying and Explaining All Proper Names and Significant Terms and Subject ~ Ships in 2-3 days Keith Crim / Hardcover / Published 1976
---